ACCOMMODATION BARGE - FLOATING HOTEL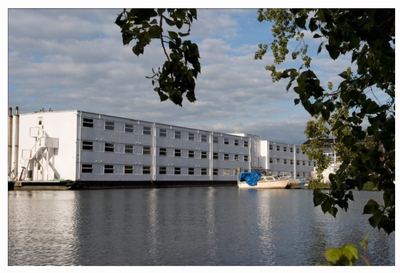 For sheltered water or harbour / inland berths only !!
presently equiped for 250 persons
336 persons possible in 84 Cabins
Barge Built 1993 The Netherlands
Accommodation fully renovated/modernised 2014
Cap 336 pax in 4 bed cabins
all cabins double glazed, each cabin with shower, basin and toilet
cabin measurements 4 x 5,25m
3 decks including offices, gym, reception
8 x central kitchens, (4 kitchens each on deck 1 and deck 2)
5 additional cabins for crew/staff
1 central washing room / laundry room
loa 104 m m, beam 11,80 m
present draft abt 0,9 m
Airdraft / height 10 m
This barge is fully equiped with waste water plant, reception space, classrooms, offices, medical center etc.
generators, hot water boilers, storage rooms
Grey water tank capacity 30 CBM.

The whole accommodation barge is in tiptop condition and can be used immediately.
Inspection / delivery immediately 2017 The Netherlands

Owners inviting offers, we can guide

Please advise possible interest.
Long term hire will be considered as well.
OFFERS INVITED (we can guide)